SMS PAYMENTS – TEXT TO PAY PAYMENT SOLUTIONS
CUSTOM TEXT (SMS) AND QUICK WEB PAY SOLUTIONS FOR YOUR BUSINESS.
Accept Payments Anytime, Anywhere
The new way to optimize mobile payments and provide a frictionless billing and payment systems.
A Frictionless SMS Billing Solution:
When you consider that the global average open rate on a text message is more than 98%, it makes sense to add SMS payment services for your consumers. PayMystic offers a robust & versatile payments platform for your business that's looking to expand available billing options to include a mobile SMS billing. We deliver a frictionless billing and payment experience your customers deserve by supporting SMS payments messaging services through secure PCI-compliant payment processing.
Accept Payments Via Text
An astonishing 80% of Americans use text messaging, making it the top activity performed on a smartphone. Despite its popularity, most billing organizations ignore texting as a paperless payment channel. Any business dealing with late payment collection should consider a pay via text message solution.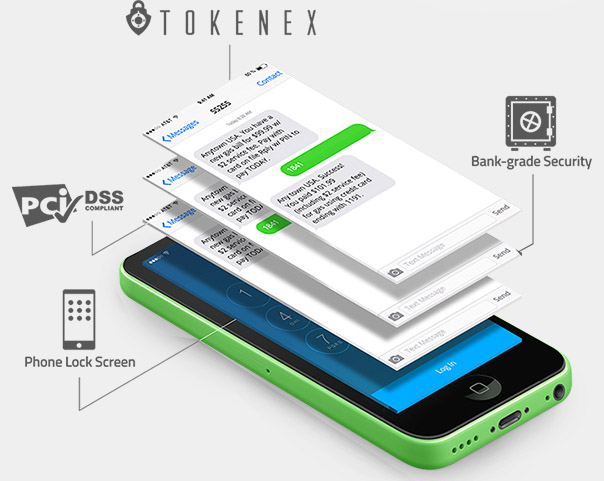 Benefits of an SMS Payments Solution
SMS stands for Short Messaging Service, and centers around cell phone text messages. SMS Payment Solutions allow businesses to accept contactless and faceless transactions by texting customers with payment reminders & accepting payment via the cell phone.
SMS Payments Benefits for Customer:
Once setup, SMS Payments are quick and easy to use. There is no need to have a payment method on hand – it is already saved in our encrypted vault.
Customers don't need to remember any passwords or usernames. Payments by text are very simple for customers.
Text payment reminders are efficient and simply retrieved.
Paperless invoicing, do away with snail mail invoices.
Customers will no longer have to divulge sensitive information over the phone.
SMS Payments Benefits for Businesses:
Merchants can accept payments from any of the billions of mobile phones capable of receiving SMS messages worldwide.
Merchants can motivate more customers to go paperless.
Remove human error from manual data entry
Merchants can receive payments from customers without a bank account or credit card.
Merchants no longer need to worry about: Verifying customers' identities, Chasing payments or Cards being denied.
Merchants can reduce the number of late payments and collect receivables faster with your customer's cell phone number (information most likely on file).
Looking to White Label SMS Payments? – No Problem!
PayMystic understands how important your brand is to you and your customers. Our white label SMS payments solution allows you to maintain control and trust with your customers. From top to bottom, PayMystic powers your brand and supports your billing and A/R teams with an experienced on-boarding and support management team.
Are you an ISO or agent? Each custom integration provides merchant customers with a management dashboard that allows them to download transaction data, manage customers, enable or disable services, and configure advanced payment processing services.
"Having my customers being able to accept payments on their mobile device has been a life-saver for collecting late payments. Over 75% of my customers now pay early since we switched to SMS payments."